Are you a healthcare professional or an individual looking for the best WordPress medical appointment form plugins? If yes, you've landed in the right place.
Nowadays, patients expect convenient and accessible medical appointment booking online.
Therefore, knowing the best medical appointment form plugins for WordPress is essential to streamline the medical appointment booking process.
Our handpicked selection of the best WordPress medical appointment form plugins in 2023 will empower you to provide a superior healthcare experience.
So, keep reading!
Why Use Medical Appointment Form Plugins for WordPress?
Using medical appointment form plugins for WordPress is important for any healthcare provider.
By incorporating these tools into your WordPress site, you can provide superior patient experience, and enhance your healthcare services overall.
These plugins are valuable tools that streamline the process of creating, managing, and implementing appointment booking systems on your WordPress site.
Besides, it has the following advantages:
Simplified Booking Process: Medical appointment form plugins make the booking process straightforward for your patients. By eliminating the need for phone calls or in-person visits, these plugins allow patients to schedule appointments at their convenience.
Enhances Efficiency: These plugins automate the appointment booking process, thereby reducing the administrative load. This efficiency provides a smoother experience for patients, thereby enhancing their satisfaction and trust in your services.
Customizable: A significant advantage of WordPress plugins is their flexibility and customization options. You can easily adjust the form fields, the design, and the functionality to meet your specific needs.
Streamlines Record Keeping: Digital booking systems provide a centralized location for managing patient appointments. This makes it easier to track, manage, and analyze patient interactions, leading to improved patient care.
Integration Capabilities: These plugins can seamlessly integrate with other systems like your calendar or billing software, allowing you to create a fully connected and efficient appointment management system.
---
10 Best WordPress Medical Appointment Form Plugins for 2023
Now, let's introduce a list of the top 10 best WordPress medical appointment form plugins for 2023.
We've carefully handpicked these plugins after thorough research, ensuring that only the most effective options are included.
With over 100,000 installations, Everest Forms is hands-down one of the best WordPress form plugins. It's a lightweight, fast, and extensible plugin developed by WPEverest.
This plugin comes with an easy drag-and-drop form builder to create any kind of WordPress form in a minute. You can create contact forms, donation forms, job application forms, and so on.
Everest Forms includes all the essential form field components to engage your visitors effectively.
Further, it comes with several add-ons and integrations to extend the form features and functionalities.
Key Features of Everest Forms:
Pricing:
Free
For Personal Plan: $48/year
For Plus Plan: $99/year
For Professional Plan: $99/year
For Agency Plan: $199/year
---
Booking Calendar is a popular free WordPress booking form plugin, downloaded by millions of users.
It provides a powerful set of features designed to streamline the booking process.
These include the flexibility to customize booking durations, a notification system that reminds customers of their appointments, and many more.
Also, it allows visitors to your website to verify availability and reserve appointments or time slots.
Your clients have the ability to seek out available services or properties for specific dates, and they can even make online payments for their bookings.
Key Features of Booking Calendar:
Support multi-user booking admin panels
Customizable form and calendar
Responsive front-end design
Supports WPML and qTranslate plugins
Accept online payment
Pricing:
Free
Personal Plan: $39 for 1 Site
Business Plan (Small to Large): $79 to 179 for 1 Site
MultiUser: $349
---
Amelia is a well-established freemium WordPress booking plugin designed to streamline the management of medical appointment processes.
It comes with a handy calendar view in the back end, giving you total control over all the appointments and their statuses.
Amelia is an easy-to-use plugin for booking appointments. It allows functions like tracking patients' and employees' data, managing shifts, preventing double appointments, and more.
All in all, Amelia prioritizes simplicity and convenience for the end user.
Key Features of Amelia:
Custom schedules for doctors & nurses
Native Zoom and Google Meet integration
Group appointment bookings
Sidebar with the selected booking-related details
Available in 20+ languages
Pricing:
Free
For Basic Plan 1 Domain: $79/year
For Pro Plan with 3 Domains: $119/year
For Developer Plan with Unlimited Domains: $249/year
---
WPForms is a popular WordPress plugin with over 5 million users. The theme allows users to create forms for their websites easily and quickly.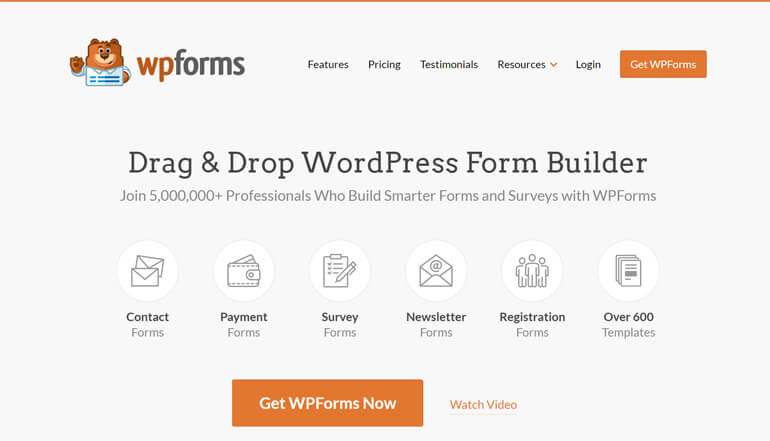 It's designed to be user-friendly and powerful, making it possible for both beginners and experienced users to create effective WordPress forms.
Additionally, it provides access to more than 600 pre-designed form templates to kick-start your form creation process.
This plugin is also integrated with Google Calendar through Zapier.
This way, you can keep your Google Calendar in sync with all the appointments that are booked using the form.
Key Features of WPForms:
Drag & drop form builder
Split long forms into multiple pages
GetResponse signup forms addon
Custom user registration
Spam protection
Pricing:
Free
For Basic Plan: $49.50/year
For Plus Plan: $99.50/year
For Pro Plan: $199.50/year
For Elite Plan: $299.50/year
---
Easy Appointments is a versatile and free WordPress plugin for scheduling appointments. It's flexible in terms of scheduling medical appointments.
With this plugin, you can easily create a booking system that allows your visitors to schedule appointments with you or your team members.
This plugin allows you to define your working hours, set appointment durations, and specify the number of available slots for each service and staff member.
Key Features of Easy Appointments:
Create multiple time slots by connecting location, service, and worker
Custom form fields for data collection
Compatible with GDPR
Simple one-column layout
Customizable email notifications
Pricing:
Easy Appointments is Free of Cost.
---
Booknetic is a multipurpose appointment booking plugin for WordPress. It's recognized as the most user-friendly booking plugin offered on Codecanyon.
With this plugin, customers can easily select services, choose a time slot, and make an appointment with a clean and intuitive interface.
Moreover, you can easily customize the booking form to match your brand and collect necessary information from your customers.
This could include basic contact details, service preferences, or any special requests they might have.
Key Features of Booknetic:
Conversion tracking with (Google Analytics and Google tag manager)
Built-in form-builder
Integration with Zoom
Customer panel to manage appointments online.
Group and recurring appointments
Pricing:
For a Regular License: $79
---
ARB Reservations is a flexible WordPress plugin for making reservations for an appointment.
This extension plugin empowers doctors to offer reservation and appointment-booking services to their patients.
It allows patients to view available time slots and schedule appointments at their convenient time.
This plugin is perfect for a wide array of businesses that require appointment scheduling, making it particularly suitable even for hospital appointments.
Likewise, it enables administrators to manage the availability of doctors or healthcare providers, ensuring that patients can book appointments based on their schedules.
Key Features of ARB Reservations:
Set limitations on reservations
Filterable and sortable booking list
Avoids double booking
iCalender features to notify clients
Customizable reminder and notification email
Pricing:
---
With over 60,000 satisfied users, BookingPress stands as one of the best-selling plugins of all time.
It's a feature-rich plugin that effortlessly creates appointment bookings.
By integrating a powerful booking widget into your website, the plugin automates the entire scheduling process.
It supports several types of bookings, including individual, group, manual additions, or an online system, depending on your preferences.
The plugin also offers various options for payment gateway like PayPal, Stripe, Authorize.net and etc.
Key Features of BookingPress:
Easier analysis of your performance with the stats tools
Anti-spam facility
Popular calendar integrations (Google, Outlook)
15 + payment gateways
Quick and easy configuration option
Pricing:
Free
For Standard Plan: ($69/year)
For Professional Plan: ($119/year)
For Enterprise Plan: ($249/year)
---
KiviCare is a simple WordPress plugin for medical appointments developed for the ease of patients, doctors, and clinics.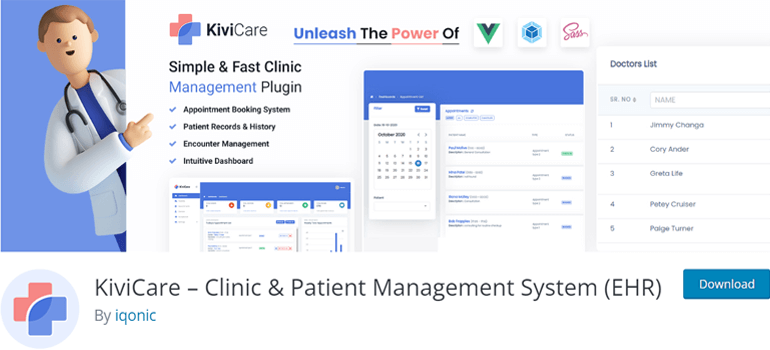 This user-friendly plugin provides doctors with the tools necessary for the effective management of appointments and emergency situations.
Additionally, KiviCare also includes a feature for appointment reminders, ensuring you never miss an important engagement.
KiviCare enables the tracking and management of online patient bookings for doctors. Moreover, it prioritizes privacy for confidentiality purposes.
Key Features of KiviCare:
Custom email templates
Advanced styling options
Dashboard with useful hospital modules
Multilanguage support via translation plugins
Custom fields for prominent forms
Pricing:
Free
For KiviCare Pro: $59
For KiviCare Extended: $399
---
BirchPress is a beautiful WordPress booking plugin that equips your website with a sophisticated online booking management system.
This plugin lets you design booking forms tailored to your needs by selecting and arranging various fields.
BirchPress stands out with its calendar synchronization capabilities.
It offers synchronization with several external calendars, including Google Calendar, iCal, Android, and Outlook.
Moreover, it has a customizable email notification and reminder system to keep you and your clients informed about the booking.
Key Features of BirchPress:
Set the length of the time slot
Display staff appointments in a different color
Cancel/Reschedule appointments by customer
Custom email messages
WP user integration
Pricing:
For Personal Plan: $99
For Business Plan: $199
for Business+ Plan: $249
---
Conclusion
In conclusion, a well-implemented medical appointment form can enhance the functionality and user experience of a healthcare website.
Therefore, we've provided a comprehensive analysis, highlighting unique features, usability, and cost-effectiveness of the top 10 medical appointment form plugins for WordPress
We hope you've found the best appointment booking plugin that suits you after reading this article.
If you're still confused, we suggest using Everest Forms. You can simply visit the link Everest Forms review if you've got any doubts regarding the plugin
If you're looking to further enhance the visual appeal of your site, consider browsing our article on the best WordPress model application form plugins.
Also, if you like our article then feel free to share it across your social networks. We appreciate your support and engagement!
Lastly, stay updated with our future insights by following us on social platforms like Twitter and Facebook.
Disclaimer: Some of the links in the post may be affiliate links. So if you purchase anything using the link, we will earn affiliate commission.
10 Best WordPress Medical Appointment Form Plugins 2023 (Free + Paid)