Want to create an eLearning website just like Udemy or Coursera with WordPress? Are you searching for the best WordPress online course plugins for your site? Then, you've found the right article.
WordPress online course plugins or simply Learning Management System (LMS) plugins allow you to create, manage, deliver, and even sell online courses directly from your dashboard. So, they help you convert your WordPress website into a powerful eLearning platform without touching a line of code.
Hence, we're here to help you pick the best WordPress online school plugin that will let you build a stunning online learning website effortlessly.
Let's start!
What to Look for in the WordPress Online Course Plugins?
While you may find oceans of WordPress online course plugins, it's also true that not each of them provides you with the features that your website requires.
So, if you want a full-fledged online learning platform of yours, you should look for the important features given below:
User-friendly Interface: An online school WordPress plugin with an intuitive interface allows you to create courses, lessons, and quizzes with ease.
Course Builder: The plugin must let you create interactive courses including multi-media such as audio, video, PDF, links, slides, and so on.
Course Progress Information: It allows learners to track their progress. They can easily figure out the courses they've completed and which are yet to be completed.
Student Enrollment and Management: You can keep track of the number of students enrolled in your courses and manage them easily.
Content Dripping: With drip-feed content, you can release the content over time as the student progresses through the course.
Assignments and Quizzes: The addition of assignments and quizzes makes your online courses even more effective.
Badges and Certificates: You can offer badges and certificates to your learners for good performance and upon successful course completion to encourage them.
Support for Payment Gateways: Integration of WordPress LMS plugins with secured payment gateways like PayPal, Stripe, etc., allows easy payment collection.
Note: For an in-depth guide on how to choose the best LMS plugin, make sure to read this article.
---
10 Best WordPress Online Course Plugins
Now that you know what features to look for in the WordPress LMS plugins, it's time to dive into the lists.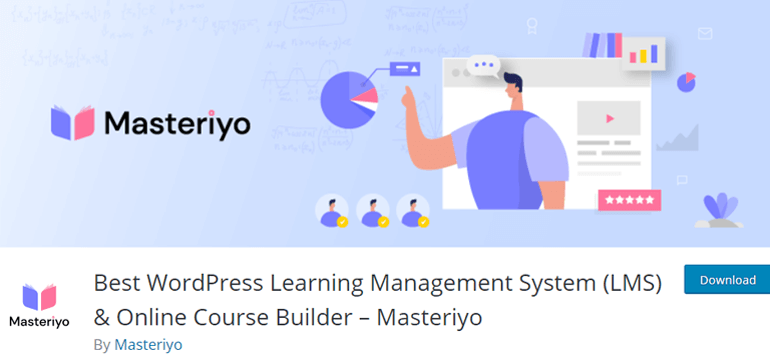 Masteriyo is a brilliant WordPress plugin with powerful LMS features. It is based on React JS and has a clean and minimal design. Hence anyone, including beginners, can create effective courses, lessons, and quizzes easily and quickly using this plugin.
However, Masteriyo isn't limited to course building. It also has an in-built order system to let you sell online courses and accept payment via a trusted payment gateway like PayPal. Not to mention, it also supports offline payment. Besides, you get options to allow registered or non-registered users to access your courses freely.
Another unique feature of this free WordPress LMS plugin is its dedicated place for questions and answers. Thus, learners can place their queries for quick interaction with the instructor and other fellow students. Further, you can create interesting quizzes to engage your students with the advanced quiz builder.
Key Features:
Option to create unlimited courses
Distraction-free learning page to focus on reading
Progress bar to help learners know their progress with the course
Compatibility with any WordPress themes
Responsive design for a better learning experience
Cost: Free
---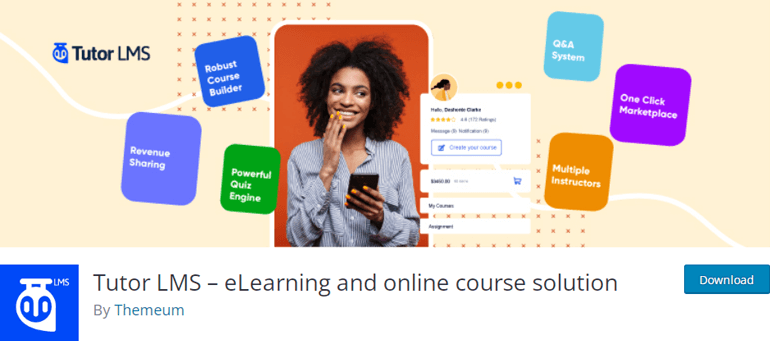 Tutor LMS is a comprehensive online school WordPress plugin that helps you build a full-fledged eLearning website. It allows creating detailed courses with videos, attachments, excerpts, etc. Also, it's fully compatible with Gutenberg, so you can create courses in this new WordPress editor without any difficulty.
One of the unique features of Tutor LMS is its spotlight mode. This feature allows hiding headers and footers to enable students to focus on learning without any distraction. Further, it's a secured learning management system that allows only the enrolled students to access your content.
With this LMS plugin, you can also set up registration forms easily and approve the instructor for a particular course curriculum. Besides, it provides full support to the page builder plugins.
Key Features:
Automated email notification to teachers and students
Student frontend dashboard to view courses, progress notification, etc.
Set up a time limit and restrict attempts for quizzes
Purchase history to keep track of all purchase options
Integration with WooCommerce and Easy Digital Download
Cost: Free or $149/Year for 1 Site License
---
LearnDash is the best online course plugin for WordPress that has won the Capterra Top 20 award. And that is self-explanatory why the big names like Tony Robbins, Digital Marketer, Yoast, and so on trust this WordPress eLearning plugin.
Once you install the plugin to your WordPress site, it provides everything you'll ever need to build a successful online learning platform. From drip-feeding content to rewarding learners with certificates and badges, this LMS solution has it all.
Moreover, it provides sophisticated marketing and sales of your online courses. It offers different options like one-time purchases, subscriptions, course bundles, membership, and more. If you think that isn't enough, you can still extend your capabilities by connecting LearnDash to the tools you love.
Key Features:
Drag and drop course builder
Advanced quizzing option
Discussion forum for interactive courses
Easy management of course relevant assignments
Integration with PayPal and Stripe
Cost: $159/Year for 1 Site License
---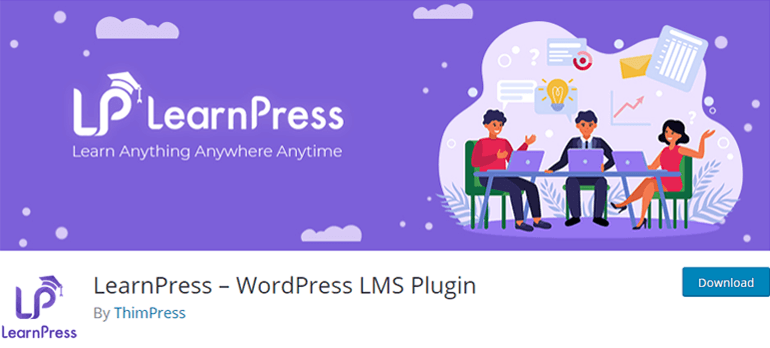 LearnPress is one of the top WordPress LMS plugins that allows you to create, manage, and sell online courses without any hassle. It's lightweight, powerful, and comes with an excellent user interface for impactful course creation.
Likewise, this WordPress education plugin also offers bundles of free and premium add-ons. Free add-ons like LearnPress Wishlist allows students to add their favorite course to their wishlist. Course Review add-on lets all the enrolled students review the courses to get ideas about the curriculum.
Besides, with premium add-ons like Assignments, Frontend Editor, etc., you can further enhance the LMS functionalities of your site. Moreover, it's compatible with all the WordPress themes, including Zakra. The online course demo of Zakra is built using this plugin. Hence, you can use this theme to instantly build an amazing eLearning site.
Key Features:
Actively developed WordPress Learning Management System
BuddyPress integration for easy communication with the instructor and other students
Import and export courses from other websites using LearnPress
Support WordPress multisite
Support offline payment
Cost: Free or $249 for LearnPress Pro Bundle
---
LifterLMS is a wonderful online school WordPress plugin designed by talented course creators, developers, and designers. It enables you to create engaging courses with multimedia-based lessons including video, audio, text, images, etc.
This LMS plugin also lets you create dynamic quizzes to test the efficacy of your course curriculums. Apart from that, you can make your lessons available to your learners on an allocated schedule with a drip-feed content feature.
LifterLMS even offers an amazing feature of downloading worksheets, ebooks, PDFs, etc., for offline learning. Furthermore, it allows you to integrate form plugins to easily collect assignments, contact messages, and so on.
Key Features
Assign multiple instructors for a course
Set time limit with quiz timer
Student dashboard to track their activity and stay organized
Achievement badges and certificates on course completion
Content protection to make them available at the right time and to the right users
Cost: Free or $120/Year
---
WP Courseware is a leading drag and drop course builder that lets you create dynamic courses for your online learning site. Since this WordPress online school plugin allows embedding any type of content, you can create a media-rich environment for learning to engage your students.
Additionally, instructors have complete freedom to create, edit, and manage their own course curriculum. Likewise, students can submit their assignments in a designated format, and you can review them when you're ready.
Apart from that, you can customize the layout of your lessons with WP Courseware's visual builder block. Also, you can style your courses using its styling customizer. Moreover, you can create customized messages and notifications for your students.
Key Features:
Create unlimited courses
Options to duplicate courses, modules, quizzes, etc., in a click
Integration with membership and eCommerce plugins
Works well with any WordPress theme and page builder plugins
Self-enrollment option to allow students to register for your courses from anywhere on your site
Cost: $129/Year for 2 Site License
---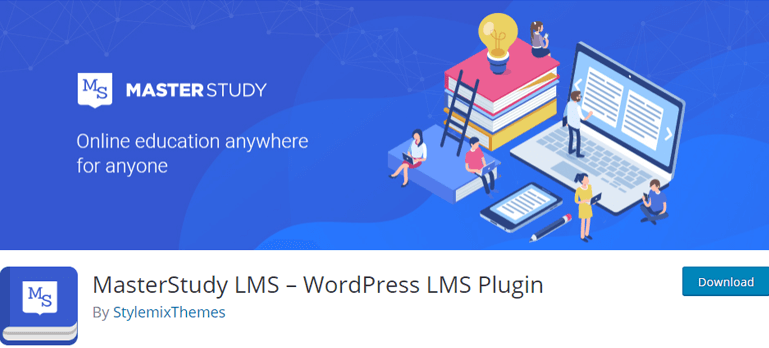 Yet another amazing WordPress eLearning plugin on our list that allows you to build an online course in WordPress is MasterStudy LMS. With this flexible LMS tool, you can create interactive courses, lessons, quizzes and deliver them to your students in no time.
Your users can easily view the available course details on your site and add them to their wishlist, shopping cart, or purchase them. In addition to this, it enables you to add interesting topics, news, etc., to communicate with your students via Announcements.
Not to mention, you can also assign co-instructors to the course to share your responsibilities. Above all, MasterStudy LMS also allows you to manage your earning and commissions distribution effortlessly.
Key Features:
Easy assignment managements
Course rating system
Teacher and students profile page
Awesome certificate builder
Translation-ready
Cost: Free or $54.99/Year for 1 Site License
---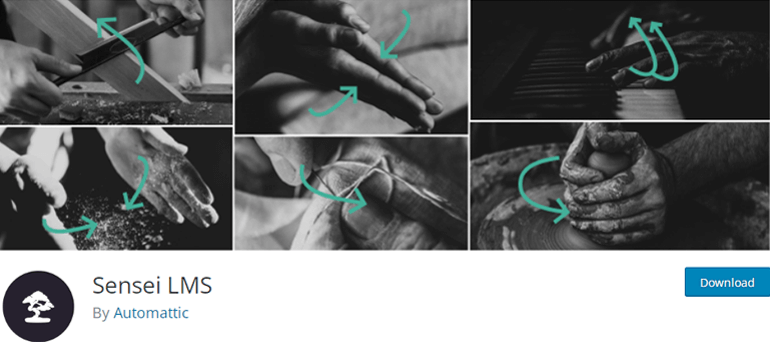 Sensei LMS is one of the outstanding WordPress LMS plugins developed by Automattic, the same company behind WooCommerce. The plugin integrates seamlessly with the WordPress website. Hence, creating courses, lessons, and quizzes is just a piece of cake.
The core plugin is available for free. However, you'll need a WooCommerce Paid Courses extension to sell your courses and earn a passive income. It also lets you accept recurring payments. Further, you can use this extension to restrict your content and make it available only to the enrolled students.
Sensei LMS fits perfectly with any WordPress theme. Therefore, you can rest assured that your LMS website looks great enough to grab your students' attention. The plugin is extremely user-friendly, and you don't need any coding skills to use it. All these features make it one of the top LMS plugins for your WordPress website.
Key Features:
Powerful quizzes
Drill-down reporting system to track the progress of the students
Import/export of courses, lessons, and questions
Easy management of learners
Seamless integration with WooCommerce
Cost: Free + Premium Extension Available
---

If you are searching for the best premium WordPress online course management plugin, your search ends right here at GoodLMS. It's a popular Learning Management System for WordPress with great features to create and sell courses online.
The plugin comes with a vertical course progress bar so that students can easily track their progress through the courses. Besides, it allows you to create and share coupon codes to attract more and more students to enroll in your courses.
Similarly, you can enable a course rating system to share learners' opinions to help others evaluate the efficacy of your course content. Furthermore, you can award your students with badges and beautifully designed certificates.
Key Features:
Easy setting of commission rate for instructor
Several payment options (PayPal, Stripe, Paymill, etc.)
Option to retake quizzes
Amazing profile page for instructors as well as students
Awesome plugin support and documentation
Cost: $32 for Regular License
---
Teachable is an independent LMS software for building online courses. However, you can also connect your WordPress website with Teachable using the custom domain. This allows you to create a highly customizable online school with engaging lessons, coaching sessions, multimedia lectures, and many more.
It also comes with a flexible page editor to make gorgeous sales pages. Thus, you can sell your courses easily and make a good earning. Moreover, it enables you to keep a record of your students' insight and sales with detailed reports and analytics.
Besides, Teachable lets you add more authors, contributors, and other team members. Also, you can assign them specific roles and permissions without any hassle. Additionally, it supports and integrates with vast arrays of tools to provide powerful features to your eLearning website.
Key Features:
Allows accepting payment in 130+ currencies
Affiliate marketing tools to boosts student enrollments
Collect feedbacks via third-party forms and surveys
Flexible page editor to design attractive sales pages
Coupons and advanced pricing options like memberships, one-time payment, etc.
Cost: Free or $29/Month
---
Conclusion
If you want to build educational websites with WordPress, choosing a powerful LMS plugin is a must. And that's precisely why we've handpicked amazing WordPress LMS plugins to make your task easier.
Still, confused about which WordPress online school plugin to choose?
Masteriyo is the best pick if you're someone on a tied budget and looking for a free plugin. It has a simple and user-friendly interface yet delivers powerful LMS features. Similarly, LearnDash is your go-to option if you're looking for a premium LMS solution with advanced functionalities.
And that's the end of our article on the best WordPress online course plugins for now. Hope it was helpful to you.
Want to explore more hands-on WordPress articles? How about the best WordPress lead generation plugins and WooCommerce plugins?
Lastly, don't forget to follow us on Twitter and Facebook for the latest article updates.
10 Best WordPress Online Course Plugins 2023 (Free + Paid)