Want to introduce file and image upload features to your WordPress site? In search of the best WordPress file and picture upload plugins? You've landed in the perfect spot.
WordPress doesn't have built-in file and image upload features. With a plethora of plugins available, picking the right one can be tricky.
However, after thorough research, we've compiled a list of the best plugins for this purpose.
Before we list our top picks, it's important to know why using a WordPress picture upload plugin is significant.
So, let's begin by understanding the uses of these file and picture upload plugins.
If you have no time to go through the list, here are our top picks.
Top Picks
1st
Everest Forms
Features:
Drag and Drop Files/Pictures
Multiple File/Picture Uploads
Define File Types
Display File Upload Progress
2nd
User Registration
Features:
Drag and Drop Form Builder
Add File Upload Field
Download Uploaded Files
Set Maximum File Upload Size
3rd
WPForms
Features:
Pre-built Templates
Specify Upload File Extension
View Uploaded Files
Limit File Upload Size
Why Use a WordPress File Upload Plugin?
When you build a new WordPress website, with a specific audience in mind, it's essential to equip the site with the functionality to convert visitors into active users.
This often involves allowing them to upload various types of content like pictures, resumes, guest posts, and so on.
The following are important reasons for choosing a file upload plugin for WordPress:
Easy File Upload: Makes it simple for users to upload documents, videos, photos, and other file types to your website.
Optimal Solution: Enable quick setup of a versatile file upload field or button that can handle a wide range of file types and images.
Secure Custom Uploads: Offers security features to protect the integrity of the website while handling multiple file types, ensuring website security.
Customize Upload Settings: Easily control crucial aspects such as file types, size limits, and the number of files that can be uploaded.
Automated Features: Includes automation capabilities such as file renaming, image resizing, and scheduled file deletions, which can reduce administrative overhead.
Content Sharing Capabilities: Enhances user interaction by enabling efficient content sharing (resumes, guest posts) within the WordPress website.
Now, let's explore our list to find out what's the best WordPress file submission plugin for your site in detail.
---
13 Best WordPress File and Picture Upload Plugins
Everest Forms is a popular form builder plugin that allows the creation of all types of forms. Besides, it's also one of the best plugins for letting users upload and submit files.
It supports multiple file and image uploads simultaneously; users can also easily drag and drop their files in the field.
It's easy to create a file and picture upload field using the drag-and-drop feature of the plugin in your WordPress website.
You can also upload the form submission to Dropbox or Google Drive by authenticating them with your site.
Additionally, it displays the upload progress for each file in percentage with a "File Uploading…" message. You can specify acceptable file types in the form settings options.
Key Features
Export data in CSV file format
Provide unlimited form fields
Enable quick form preview option
Enable creation of form using AI form builder
Send unlimited automated email notifications to users.
Price: Freemium (Premium Plan Starts at $49 for 1 Site License)
---
User Registration is the best WordPress plugin for building beautiful registration forms.
It comes with a simple drag-and-drop builder and tons of powerful features to integrate a file upload field on any form.
It enables users to upload files and images effortlessly. It supports multiple upload fields per form.
Admins can download uploaded files by selecting the form from which they want to download the file. Also, users can delete and replace uploads.
Additionally, as it has the feature of setting a maximum limit for the file size and types, the error message is displayed in the form if the user doesn't upload as per the limit set.
Key Features
Show or hide specific form fields using conditional logic
Google reCAPTCHA support (v2 and v3)
Download the attached files of users in ZIP format
Email notifications for admins and users
Price: Freemium (Premium Plan Starts at $79 for 1 Site License)
---
WPForms is a popular contact form plugin with a file upload field. It lets you collect different types of user information like images, pdf, docs, videos, etc.
So, you can create a file upload field in your WordPress form single click or use the pre-built templates. As for security, the admin can restrict file types by specifying the file extension they want with WPForms.
Moreover, you can also set a maximum upload size for the files and save your storage space. At the same time, the admin can view the uploaded files from the WordPress dashboard.
Key Features
Provides measures for spam protection
Allows the integration of custom captcha to further secure your forms
Enable multi-page forms for registration
Support smart conditional logic to show or hide specific form fields based
User journey add-on to see the pages and posts users visit.
Price: Freemium (Premium Plan Starts at $39.60 for Basic Plan)
---
Gravity Forms is another WordPress file upload plugin with over 30 custom fields letting you add almost all types of data.
It allows users to submit documents, images, audio, and videos and accepts multiple files at once. Among them, the file upload field is the one that allows users to upload files seamlessly.
Once the user uploads the files, it saves the files automatically to your server. It also integrates the file upload field with Dropbox using its Dropbox addon.
As an admin, you can specify the file type that you want your users and set the limit of the files to upload. Additionally, conditional logic is also available to hide or display the upload field.
Key Features
Provides secure data collection
Email auto-responders for updated notification
Quickly integrate digital signatures to sign forms
Preview form before submission
Enable GDPR to manage personal data and user consent.
Price: Freemium (Premium Plan Starts at $59 for Basic Plan)
---
Ninja Forms is a beginner-friendly form-building plugin that helps to design your forms like a pro. It also allows you to add a convenient file-uploading field to any of your WordPress forms.
The field accepts files such as documents, image uploads, media, and many more. It also has a progress bar showing the progress of the file that is getting uploaded.
At the same time, it saves the file in the server by default, whereas you can also modify and save them in the library.
Other restrictions you can set for the file include file limit, file size limit, and allowed file types. Moreover, you can also rename the files after the user completes uploading.
Key Features
Send files directly to Dropbox, Google Drive, and Amazon s3
Spam protection including Akismet and Google reCaptcha
Customizable email notifications
Beautifully matches the theme's design decision
Price: Freemium (Premium Plan Starts at $99 for Plus Plan)
---
Another best WordPress file upload plugin to allow users to upload files and pictures is Forminator. You can either enable single or multiple file uploads using the plugin.
Besides, you also get the option for specifying file types, setting the limit for the number of files, and setting the individual file size.
You can also add the file and image upload field to your WordPress site using its drag-and-drop visual builder.
Furthermore, as the field supports a drag-and-drop interface, it's easy for the user to upload their file and pictures to the WordPress site. Simultaneously, the option for browsing the files is also available.
Key Features
Export and download form entry data in CSV format.
Break long forms down into multiple pages forms
Recurring Stripe payments/subscriptions
Integration with popular third-party apps
Enable General Data Protection Regulations (GDPR) compliant with privacy policy.
Price: Freemium (Premium Plan Starts at $33 for a month)
---
File Manager is a plugin that is solely focused on managing files on your website. It has various operations available such as editing, deleting, uploading, and downloading files.
At the same time, it also lets you copy and paste files and folders from the WordPress dashboard.
On the other hand, you can create, extract, and archive the files uploaded to your site. Along with this, it allows you to control what files are to be uploaded and downloaded.
As an admin, you can view file details by right-clicking and selecting "get info. on the other hand, users can access files on the front end using shortcodes.
Key Features
Syntax checker to review code before saving
Admin can create, archive, and extract files (zip, rar, gzip).
Admin/User can upload any size files
Easily preview common file types
File and folder browsing history
Price: Freemium (Premium Plan Starts at $25 for a Single Site License)
---
Advanced File Manager is a powerful plugin for managing files and letting users upload files on the WordPress site.
Using the plugin, you don't need to use any cPanel and FTP to carry out file-related operations such as copying, uploading, deleting, zipping, etc.
Additionally, the premium version provides shortcodes for front-end file upload for users.
Further, you can easily access the files inside and outside the root directory. One of the plugin's exciting features is hiding the files' real and actual paths.
Key Features
Uses local file system (no need for the database)
Rich context menu and toolbar
Thumbnails for image files
Enable you to hide the file's real and actual path.
Creating the archive by specifying the file name
Price: Freemium (Premium Plan Starts at $12 for a Single Site License)
---
WooCommerce Upload Files is a file upload plugin made especially for e-commerce websites.
It lets the customers upload their files for the products they purchase from the cart, checkout, order details, and product pages.
Further, the admin can find the upload on the backend order detail page or directly for their email address (if the option is enabled).
Admin can create upload fields using the Upload Files Configurator and customize their placement. The plugin also offers a built-in image editor for pre-upload adjustments.
Key Features
Supports cloud storage like Dropbox and Amazon S3
Unlimited file upload without file size restriction
Email notification and attachments
Crop images before uploading
Field visibility according to the payment gateway or shipping method
Price: $27 for a Regular License
---
Drag and Drop Multiple File Upload is an extension for the Contact Form 7 WordPress plugin that allows users to upload files and pictures using drag and drop features.
The plugin is responsive, and the admin can easily specify the extension for the files. Additionally, managing text and error messages is also easy with the plugin.
In the pro version, various options such as modifying the filename before uploading the file, previewing the image, ZIP files, etc., are available.
Furthermore, it also allows for parallel upload which helps in reducing the resource usage on the server. At the same time, users can send files as an email attachment or even as a link.
Key Features
File type and file size validation
Specify custom file types or extension
Supports multiple drag and drop in a single form
Compatible with any browser
Users can delete uploaded files before submitting
Price: Freemium (Premium Plan Starts at $29.99 for a Single Site License)
---
WordPress File Upload is a plugin that lets users easily upload files and pictures to the WordPress site from any post, page, or sidebar.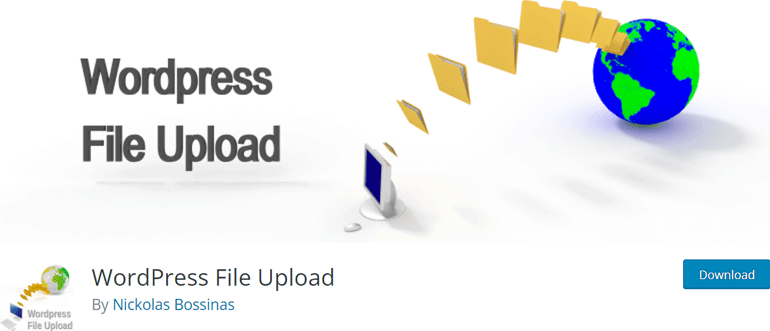 Besides, it supports uploading files by capturing screenshots or videos from a webcam. After the successful submission, it supports the redirection to another URL.
Additionally, it supports filters and actions to the files before and after the upload.
The plugin displays the uploaded files in a top-level menu at the backend and has a file browser to let the admin access and manage uploaded files.
Meanwhile, you can also add custom fields to allow the user to submit additional data along with the file.
Key Features
Supports additional form fields (like checkboxes, text fields, email fields, etc .)
Notification messages and emails
Highly customizable with more than 50 options
Usable as a simple contact form to submit data
Supports filters and actions before and after file upload
Price: Freemium (Premium Plan Starts at €20 for a Single Site License)
---
Frontend File Manager Plugin is an interesting WordPress file upload plugin for your website that saves every file in the private directory.
Besides, it lets the users easily download their files after they log in. It has a secure uploader script with a fast, responsive, and beautiful user interface.
The plugin exists in both free and pro versions, where the pro version has features like Visual Composer add-on, file groups, and so on. You can also rename the file using the timestamp prefix and set the file size quota for roles.
Additionally, it's possible to set a notification message for admin and alert for completing file upload for users.
Key Features
Provides thumbs for images
Allow users to share the file via email
Displays a progress bar showing the upload status for files
Enable file meta to create Fields and attach them with files
Allow to create unlimited download pages.
Price: Freemium (Premium Plan Starts at $35 for a Pro Plan)
---
File Upload Types by WPForms is a plugin that allows users to upload file and picture types beyond the limit that WordPress allows.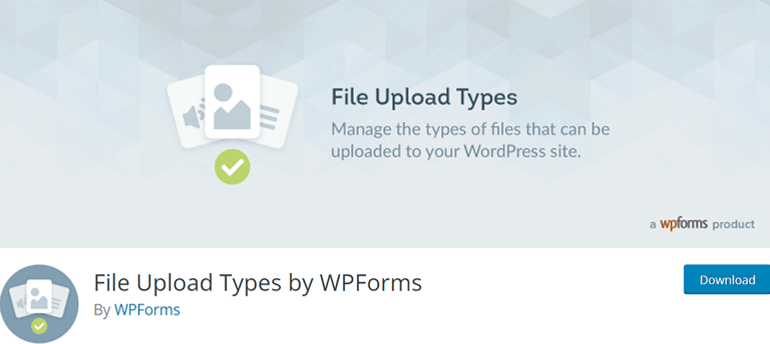 It works closely with WPForms so that uploading the file through the contact forms made by using WPForms is easy; in fact, the plugin was created by the WPForms team.
It lets you adjust the internal file whitelist and control the types of file extensions. Moreover, the plugin supports any file type with any extension or MIME type and custom file types.
Some of the common file extensions allowed by the plugin are .ai, .zip, .xml, .mobi, .dwg, etc.
Key Features
Highly secure as it integrates CAPTCHA and Honeypot for spam protection.
Show or hide fields based on user response using conditional logic
Accepts additional file formats like PDF, DOC, and JPEG
Compatible with almost all popular WordPress themes
Break long forms down into multiple pages.
Price: Freemium (Premium Plan Starts at $49.50 for a Single Site License)
---
Wrapping Up!
We hope you learned a lot about file and picture upload plugins and can now pick the best one for your website.
If you're still unsure, we recommend Everest Forms. It lets you upload files using the drag-and-drop feature. Also, you can easily customize the file and picture upload settings (file types, size, format, etc).
Likewise, User Registration also enables your users to upload files and images to the registration forms effortlessly. Further, it also enables admins to download uploaded files by users.
However, all these plugins let you add files and photos to your WordPress site. Each one works in its way. So, choose the one that suits your site best.
We've come to the end of our article on the top WordPress file and photo upload plugins.
Also, you may read our other articles on social share plugins, lead generation plugins, and survey plugins to create a fully functional professional website.
And do follow us on Twitter and Facebook to get notified of new articles and updates.
13 Best WordPress File and Picture Upload Plugins for 2023